Sep. 02, 2022
Before you start building your own gabion wall or fence, you must do your research. Whether it is used as a fence, a retaining wall or something more decorative, it will change the type of basket you need and whether you need a thicker foundation or replacement subsoil.
More importantly, you must also consider what materials you want to use to fill the basket. You must choose the type of basket and the construction process to ensure maximum security for the wall, no matter what you use it for.
How to install a gabion wall
◆ First, you must prepare the ground itself. For lighter gabion walls, this may simply mean removing topsoil to provide enough room for the base of the wall to go into the ground.
◆If you have softer subsoil, you may have to remove some of the subsoil and replace it with a harder substrate.
◆If you are building a fence, you may need a concrete base, or create a wider gabion wall at the bottom to better absorb and distribute the load of the wall itself.
◆However, once you have a good foundation, gabions are easy to erect. As mentioned earlier, they tend to be flat packed and can be unfolded and erected without much trouble.
◆If it is a taller wall or fence, you may want to consult a professional as to whether any lateral support is still needed to keep it from falling over to the other side.
◆Once the fence is up, you can simply fill it with rocks, broken bricks, or any other material you might choose for the wall.For larger materials, such as stone or brick, this can take quite a bit of time. If you are building a thicker wall, you may also choose to save some time by using stone and brick on the outside layer, but filling it with smaller stones on the inside.
◆Once the wall is fully erected, give it a quick rinse with water. This is just to make sure all the dust and debris from the moving material is cleaned off and you are left with a smooth, clean wall.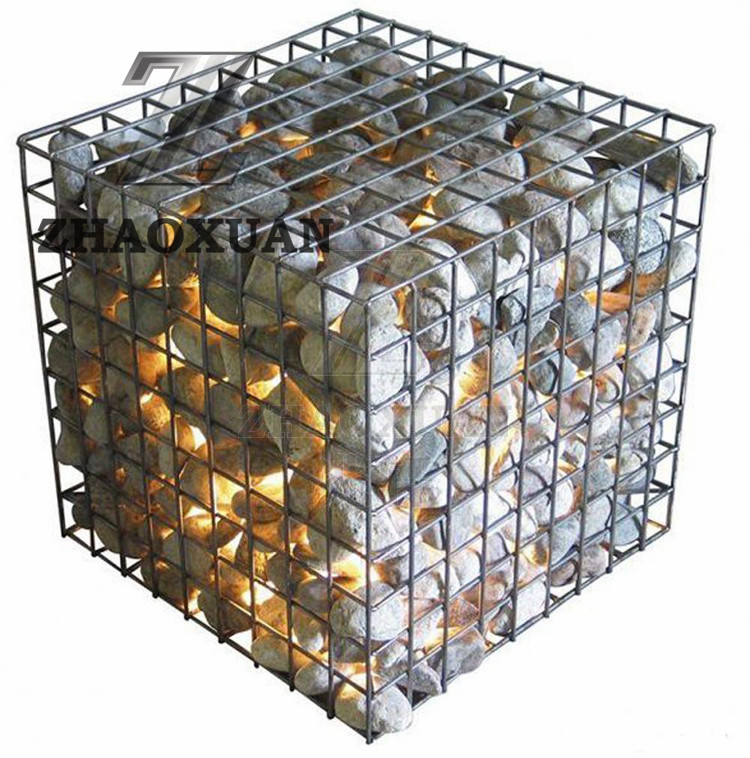 Benefits of using gabions
◆ The most obvious benefit of gabion construction is its aesthetic appeal. People like materials that have a natural look, especially in the garden. Gabion walls allow you to use natural materials, such as stones or pebbles, to avoid the artificial look of concrete walls or metal fences.
◆ In addition to their aesthetic appeal, gabion structures have many benefits. Since they are widely used for retaining walls, it should come as no surprise that they are particularly tough and good at holding heavy loads. The wire surrounding the material is much stronger than it appears, and with the right support, it can serve as the primary reinforcement for a structure, not just a frame.
◆ More importantly, gabion walls do not require the extra work of traditional foundations. As long as they are properly installed, most of them have a strong foundation that can fully support their own weight.
◆ Gabion mesh structures are highly permeable, allowing air and water to flow through them. This prevents the wall from building up hydrostatic pressure which would destroy the integrity of the rest of the wall. This also stops erosion of the material as the force of water is absorbed and allowed to pass through.
◆ Ease of use is another reason why these structures are so popular. As mentioned earlier, depending on your needs, some preparation may be required to ensure that the wall can withstand the heavier loads and its own weight.
ZHAOXUAN specializes in the production of hexagonal gabion mesh. We also have metal fencing products and garden gate products for sale, and we welcome your inquiries. We provide customized solutions for you.